Video: Hiawatha Beach Resort Lodge in Walker Destroyed by Fire
The main lodge at a resort that has stood on the shores of Leech Lake for more than 100 years burned to the ground early this morning.
Fire fighters were called at 2:47 am to Hiawatha Beach Resort located on the Steamboat Loop on Leech Lake in rural Walker, MN.
According to the press release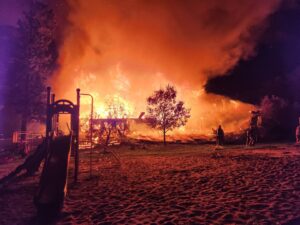 from the Cass County Sheriff's Office, the main lodge was engulfed in flames when responders arrived. Several fire departments worked through the night to contain and extinguish the fire but the structure is a total loss.
No injuries were reported.
The fire remains under investigation with the assistance of the State Fire Marshall's Office.
According to the Hiawatha Beach Resort website, the resort was established in 1920 as a lodge catering to duck hunters. For four generations, the resort has been family-owned and operated.
The lodge was completely rebuilt in 2006 and included a large indoor heated pool, a hot tub, a movie room with a big-screen TV, a video arcade and full kitchens.
The story was updated at 10:37 p.m. to include video of the fire submitted to Lakeland News.
Lakeland News is member supported content. Please consider supporting Lakeland News today.