Before You Go Boom With Fireworks, Remember Safety Comes First
With the Fourth of July around the corner, there will be lots of red, white and blue…and fireworks, too. Around this time of the year it's fireworks season, and for Generous Jerry Fireworks, their top seller is this Big Jerry Assortment.
"We have a very limited time that fireworks are actually legal and that they're able to be enjoyed," said Evangelical Covenant Church Director of Student Ministries Sarah Holt.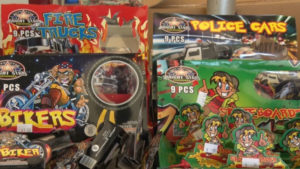 Minnesota law allows the sale and possession and use of non-explosive fireworks such as sparklers and party poppers. Fireworks must be handled with caution or there can be serious injuries.
"Safety is the number one importance, so when we're setting them off make sure that everybody is clear of the area," said Bemidji Fire Captain Justin Sherwood. "Again, you light it and use it as it's designed and then we create a safe distance between us and the firework."
The law is different in Red Lake and people are willing to travel. There, you're able to purchase missiles, firecrackers and bottle rockets, which are usually illegal. You still have to be at least 18 years old to buy fireworks.
"Anything that you purchase in Grand Forks or Wisconsin, right here we work with vendors in those areas and everything they have we can get them at good deals here," said Ogaakaaning Enterprises Chief Operating Officer Harvey Roy III.
At Red Lake Nation Fireworks, they try to inform the public of their product by handing out pamphlets and having a demo show.
"We tell them what we're lighting off and it gives them a chance to see what it does before they purchase it," said Roy.
If you're caught with illegal fireworks, the consequences vary based on the amount you have.
"Whether that is confiscation, a warning or all the way up to being cited," said Beltrami County Chief Deputy Ernie Beitel.
Dawn Peterson was out buying fireworks and feels comfortable now that her children are older. She says any injuries suffered from fireworks are the buyer's responsibility.
"They all have warnings, we've been told about this since we've been young and heard about it," said Peterson.
Officials warn you not to reignite used fireworks, have adult supervision and use common sense with fireworks.
For a detailed list of fireworks that are legal and illegal in Minnesota visit https://dps.mn.gov/divisions/sfm/programs-services/Documents/Fireworks/FireworksList.pdf.
Lakeland News is member supported content. Please consider supporting Lakeland News today.