Early Morning Storms Sweep Through The Red Lake Region
Early Tuesday morning, severe weather blew through central Beltrami County hitting the communities of Little Rock, Red Lake and Redby. Heavy rain mixed with high winds caused extensive damage to trees, structures, and vehicles.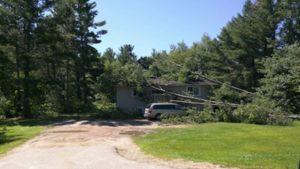 Around 1:00 a.m. the storm hit and knocked out power to almost 2,000 Beltrami Electric Cooperative customers.
Beltrami Electric crews have been on the scene and as of 8:00 a.m. had restored power to the Little Rock.
Strong winds were also reported around Beltrami County uprooting many trees adding to the many that are still blown down from the July 19th and 21st storms.
Lakeland News is member supported content. Please consider supporting Lakeland News today.