Deputy Pat Pickar Announces Run For Crow Wing County Sheriff
Crow Wing County Deputy Pat Pickar has announced his intent to run for Crow Wing County Sheriff in the 2018 election. According to a press release, Pickar is a lifelong resident of Crow Wing County from Fort Ripley who graduated from Brainerd High School in 1994 and currently resides in Baxter with his wife and two teenage daughters.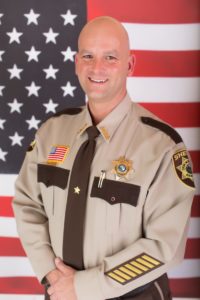 In high school, Pickar enlisted in the Minnesota Army National Guard and served his country for seven years. Pickar has been with the Crow Wing County Sheriff's Office for more than twenty years, serving in numerous divisions within the organization.  Prior to being hired as a full time deputy sheriff, Pickar interned with the sheriff's office, worked as a correctional officer at the jail, seasonal deputy assigned to boat and water and a dispatcher.
Pickar was promoted to investigator, working as a narcotics agent, assigned to the Lakes Area Drug Investigative Division. He also was a law enforcement instructor at the Central Lakes College Campus for 10 years and completed the Police Management and Supervision training through the Minnesota Bureau of Criminal Apprehension. In 2016, Pickar completed the Chief of Police Associations courses in Officer Leadership and Development; and attended the Leadership Academy at Camp Ripley.
According to a press release, Pickar has a vision for the sheriff's office taking on a collaborative role to ensure that all law enforcement agencies in the county receive training needed and access to resources they don't currently have.
Lakeland News is member supported content. Please consider supporting Lakeland News today.