UPDATED: Authorities Investigate Death On Bemidji State Campus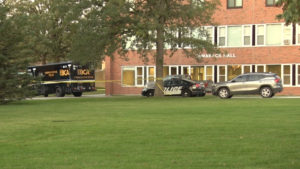 The body of an 18-year-old male was discovered early Sunday morning on the Bemidji State University campus.
According to the Bemidji Police Department, officers were called to Tamarack Hall after a report of a person lying on the ground bleeding. Officers found the male who appeared to have been the victim of a fall from a high elevation. Emergency personnel immediately began life-saving efforts but were unsuccessful.
Detectives have identified the the male as a visitor who was not enrolled at Bemidji State. Authorities are working to identify witnesses and establish how the fall occurred.
The body has been taken to the Ramsey County Medical Examiner's Office for autopsy. The immediate family of the victim has been notified, but the name of the victim is being withheld pending further notification and ongoing investigation.
Police ask if anyone has information regarding the incident to contact the Bemidji Police Department at (218) 333-9111.
Word quickly spread on social media, and one student shared on Facebook an email they received from BSU stating, "there is no imminent danger or other safety threat to our students, faculty, or staff, or to the university or its facilities." The email goes on to say that the university is anticipating an official release from the Bemidji Police Department.
Once that release is made public, we will share that information and any other updates that are made available.
Lakeland News is member supported content. Please consider supporting Lakeland News today.