Brainerd Man Arrested for Allegedly Swinging Machete at Others
On Saturday Dec. 6, Brainerd Officers were dispatched to a downstairs apartment in Brainerd for a report of an assault. According to the complaint, the victims of the assault said the man was swinging a machete at them.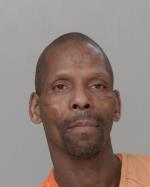 Edward Alexander Cox was charged with six felonies including two stalking counts, two counts of 2nd degree assault with a dangerous weapon-non-firearm and two counts of domestic assault. Cox was also charged with obstructing the legal process gross misdemeanor.
According to the complaint, when officers arrived Cox was coming up slowly behind one officer with his hands in his jacket pockets. When attempting to get control of the defendant, Cox began kicking, stiffening his body, screaming, flailing his arms and spitting at officers. Once officers were able to get him in the back of the squad car he began kicking at the window. Officers used mace and secured Cox's legs with restraints and he was taken into custody.
According to the complaint one victim (D.S.M) stated the defendant was highly intoxicated and "off his meds", saying that Cox woke up, began drinking vodka, continued drinking throughout the day and his agitation continued for no reason other than apparently not taking his psychotic medications and drinking.
D.S.M. also stated in the complaint that at one point the defendant was holding the machete down by his waist and pointing it directly at her stomach but missing her to her right, which the victim said appeared to be on purpose. D.S.M also stated she believed that Cox was trying to "scare" her by lunging at her. According to the complaint, Cox then grabbed the machete and raised it up over his right shoulder and was yelling and threatening her with the machete in his hand.
The victim (D.S.M) also mentioned that Cox had gone into his room and was flailing and chopping at thing with the machete in an effort to destroy things. Brainerd officer noticed several gouges which appeared to have come from some sort of heavy, sharp edge such as a machete. There were gouges on top the dresser, the door and the hollow wooden door.
Two other victims (D.A. & M.B) stated in the complaint that when Cox started to get angry and was yelling, they said they were going to leave and Cox became apologetic and asked them not to leave. The defendant went into his room again before coming out shouting and swinging the machete at D.A. while he was seated on the couch. D.A. stated that he was able to duck out of the way in time but his baseball hat that was on backwards was cut by the machete.
After Cox again was raising the machete, D.A. and M.B were able to leave the apartment.
According to the complaint the victims then believed Cox had left the apartment and was sitting in his car. The machete was eventually identified and located on the floor of the car owned by Cox.
Edward Alexander Cox has numerous prior qualified domestic violence offenses. Cox will appear back in Crow Wing County Court on Feb. 5.