Reward Offered For Information About Missing Teen Jeremy Jourdain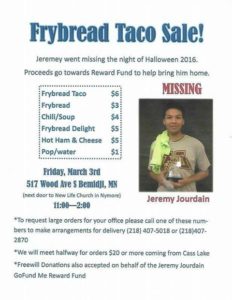 A reward is now being offered for anyone with information on the current whereabouts of Jeremy Jourdain.
Jourdain, then 17, went missing on Halloween night last year in the Nymore neighborhood of Bemidji. A ground and aerial search was conducted for weeks afterward, but no sign of the teenager was ever found.
At the time of his disappearance, Jourdain was wearing blue jeans, a blue and grey hoodie, and white and black Air Jordan shoes. He is described as an Indian American male, 6'4″ tall, 170 pounds, with black hair and brown eyes.
A fundraiser for the reward money will be held at 517 Wood Avenue South in Bemidji on Friday, March 3, from 11 AM to 2 PM.
Anyone with information can call Jourdain's aunt, Alex Tanner, at (218) 760-7818. Anonymous calls can also be made to the Bemidji Police at (218) 751-9111.
The amount of money being offered has not been publicly disclosed.
Lakeland News is member supported content. Please consider supporting Lakeland News today.