Red Lake Celebrates 100th Anniversary Of Constitution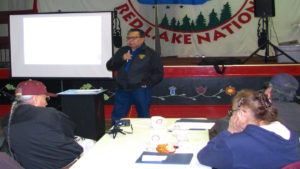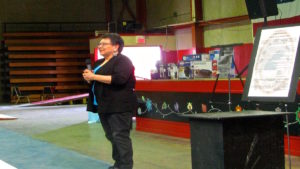 This past Saturday, Red Lake members, families and special guests celebrated the 100th Anniversary of the Red Lake Constitution. The event was held at the Red Lake Humanities Center and was hosted by the Red Lake Constitution Reform Initiative Committee (CRI).
Upon entering the building, people signed in and picked up giveaways of fans, mugs, and handouts. The event's handout included an agenda of the night's program, a page listing the signers of the Red Lake 1918 and 1958 constitution, a copy of the Red Lake Constitution and Bylaws, and a collection of tribal member comments that were gathered by CRI.
"We are here to celebrate the foresight of our forefathers and mothers in establishing one of the first Constitutions in Indian Country. We also want to update you on the activities of CRI," said committee chair Tharen Stillday during the ceremony greetings. "If we do not hold our culture and sovereignty close, we are no longer Ojibwe, but descendants of Ojibwe."
Stillday then introduced Red Lake chairman Darrell G. Seki, Sr., who noted the tribe had not revised the constitution since 1958.
"Do we need as part of our constitution, words to protect our land and natural resources?" Seki asked. "In 1918, with the first constitution, little was said about land, it was about government. In 1938 with the Indian Reorganization Act (IRA), it still didn't say much about land. But it did talk in more detail on government; including membership, elections, official duties, and business, but it still said nothing about water or natural resources. These are among the many things that the membership seems to want addressed."
The crowd was then treated to a dinner. While people were eating, Stillday introduced a PowerPoint presentation highlighting the feedback that CRI committee has received from membership.
CRI member Tom Cain, Jr., whose father was among those signing former constitutions, read off the names of those still living who are descendants of the signers of the 1918 and 1938 Constitutions. Cain then sang an honor song with hand drum, a song that his father taught him.
Bobby Whitefeather, Sr., Former Red Lake Chairman, 1994-2002, the only Red Laker to hold all three Officer positions, Treasurer 1985-1989, and Secretary 1990–1994, was asked to speak about Red Lake history. Whitefeather spoke to the circumstances surrounding the sole Red Lake treaty of 1863 at Old Crossing, the Dawes Act of 1887-1889, which was the basis for Red Lake's unique sovereignty.
"We were ahead of our time by adopting the 1918 constitution," said Whitefeather. "At that time we weren't even citizens of the US, that didn't happen until 1924. Then in 1934 came the Indian Reorganization Act (IRA) in which the Feds insisted all tribes adopt a template Constitution roughly based on the US Constitution, totally ignoring our traditional ways of governing."
Stillday then introduced a short video featuring Red Lake's three living chairmen, Bobby Whitefeather, Sr., Floyd "Buck" Jourdain, Jr., and Darrell G. Seki, Sr., who all commented on the following; language, culture, power, responsibility, chiefs, and education. The ceremony wrapped up after the video, although a few people stayed after to give more feedback to CRI.
"Currently, the Red Lake Tribal Constitution resembles an Indian Reorganization Act-era Constitution, "said Whitefeather. "The federal policy essentially required Indian tribes to adopt boilerplate, European-style governing constitutions in order to be fully acknowledged as sovereign, legal entities by the United States Government. In the past two decades, many Indian tribes have successfully undergone the extensive process to revise their constitutions to better allow them to seek progressive solutions to problems, pursue economic stability and revitalize their cultures, languages, and traditions."