Red Lake Band Plans Housing Development in Minneapolis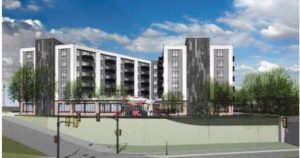 The Red Lake Band of Chippewa Indians has purchased property in Minneapolis where it plans to build a mixed-use housing development for tribal members in the Twin Cities.
In a press release from the Red Lake Band, The property is located at the intersection of 17th Avenue South and Cedar Avenue in Minneapolis, only 200 feet from the Light Rail Blue Line Franklin Station. Officials hope to start construction in 2018 on the 37,367 square-foot site.
Around 2,100 Red Lake Band members and their families live in the Minneapolis area.
The tentative name for the development will be "Mino-bimaadiziwin," which means, "living the good life" in Ojibwe.
The development will feature 115 affordable housing units, as well as retail and leisure amenities.
The next step is securing financing for the redevelopment. The band has 5,590 enrolled members living on the Red Lake Reservation and another 6,000 members living outside the reservation.
Lakeland News is member supported content. Please consider supporting Lakeland News today.