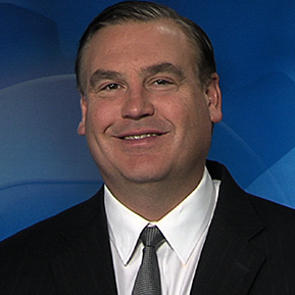 Dennis Weimann
News Director
dweimann@lptv.org
(218) 333-3050
Dennis has been the News Director/Anchor of Lakeland News since its inception in 1998. He supervises all newsroom employees and activities. He is also the executive producer and anchor of the show.
Dennis began his career working in North Dakota. He worked previously as a News Reporter/Sports Anchor at KXMC-TV (CBS) in Minot and as a Sports Reporter/Anchor at KVLY-TV (NBC) in Fargo, ND. During his eight years in North Dakota, Dennis received statewide and regional awards for his work as a news reporter, sports reporter, news videographer, and sports videographer.
Dennis is a 1990 graduate of Bemidji State University, where he also played football and served as co-captain his senior year. He called play-by-play for many BSU hockey games while in college, including the television broadcast of the Beavers 1985 National Championship game win over Plattsburg State. He attended high school in Stillwater, Minnesota and is very proud of winning the state big school football championship his senior year.
In his spare time, Dennis stays active working out and playing numerous sports (tennis, hockey, basketball, flag football, and he attempts to play golf). He has run two triathlons, one full marathon, five half marathons and numerous 10K and 5K races.
He and his wife Rita were married while in college in 1988 and have one daughter.