Honor The Earth Takes A Horse Ride Against Enbridge Line 3 Pipeline
A group with Honor The Earth went on a horse ride against the abandonment of Enbridge Line 3 pipeline that runs 45 miles through reservations such as Leech Lake. Line 3 carries Canadian oil across northern Minnesota to Wisconsin.
"In Minnesota, we're in this process now on the reroute of the pipeline and 'do we even need the oil' type of thing," said Honor The Earth Leech Lake Coordinator Annie Humphrey. "That decision is going to be happening soon."
In the past, Honor The Earth has stayed within the boundaries of the reservation, but this year they decided to venture off into Grand Rapids.
"We are riding in support of, getting people aware, for our natural world around us and the resources that we use," said Humphrey.
The horse rides began in 2013, and the cause has seen growth over the years, starting with two horses, then four, to now more than 10.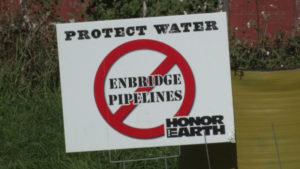 If Enbridge does replace the 50-year-old pipeline, that could have an impact on the water.
"You've got three major drainages that this pipeline crosses, and we feel its location is inappropriate for the water resources that we have," said Northern Water Alliance of Minnesota Pipeline Coordinator Jim Reents.
"Any little spill is a threat to that water; therefore it's a threat to me, it's a threat to my family and it's a threat to anything that lives within this area," said rider Todd Utech.
It's a reason Honor The Earth uses horses, because it's also considered a prayer ride.
"When [the horses] are hitting the ground with their feet, it's waking everything up, all the spirits," said Utech. "Those that were here before, those that were here in the future and those that are here now. It's waking everything up."
As they ride, they pray for the water. Utech keeps his prayer simple: "Water is life. I'm asking Creator to help us help that water."
Honor The Earth will continue their ride this weekend and end in Bemidji.
For more information on the Enbridge Pipeline 3 Replacement Project, visit https://mn.gov/puc/line3/.