Golden Apple: Grand Rapids High School Fights Alcohol Abuse
If you believe most or all high school students abuse alcohol, Grand Rapids High School wants to change your perception with its Rapids Rising Program.
"Rapids Rising is our campaign name, but it's also our student group," said Planning & Implementation Grant Coordinator Nick Adams. "The students chose the name, they chose the logo and they've become highly active in our school."
Students meet before and after school and focus on making better choices and finding alternative ways to spend their time instead of drinking alcohol.
"In the summer, we go out on the lake a lot, we go and play sports or go to the gym," said GRHS Junior Levy Winkels.
Student leaders like Nealee Roberts signed a form agreeing to the principles of Rapids Rising that include being positive, present and purposeful.
"It's the change we needed at the high school and it's a super fun place to be at and in," said Roberts.
When students walk through the halls, they'll have constant reminders of actual behaviors. One of them says most Grand Rapids High School students don't drink alcohol in an actual month; a student survey revealed that only 17 percent of Grand Rapids High School students drink alcohol in a month.
"We celebrate the fact that 83 percent of Grand Rapids students aren't drinking in a typical month," said Adams. "We promote that, because if you want health, you need to promote health."
According to the latest Minnesota Department of Public Safety report, in 2015 there were more than 1,200 impaired drivin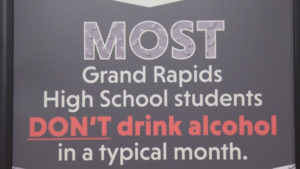 g incidents among people under the age of 21.
"Makes me feel sad because those are people in our community and somebody knows them that goes to our school," said GRHS Senior Alyssa Troumbli.
The program gives students a voice and the ability to shine a light on a serious issue.
"I know a few people who have abused alcohol, and then they've joined the program and it's really changed their life they said, said GRHS Junior Harrison Purdum. "It makes me really happy and proud because that's part of our community that's changing, and we're getting better and helping ourselves."
Rapids Rising is in its second year and has grown to more than 160 members. The program is funded through a grant from the Minnesota Department of Human Services Alcohol and Drug Abuse Division.
Lakeland News is member supported content. Please consider supporting Lakeland News today.