Brainerd Future Problem Solvers Advance To International Competition
A total of four teams representing Brainerd from both Forestview Middle School and Nisswa Elementary will be moving on in the Future Problem Solving Competition after success at the State Competition.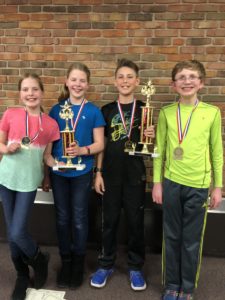 The State Competition was held at Apollo High School on Sat. March 24 and was full of future problem solving teams in grades 4-12. For the topic of Cloud Storage, all four Brainerd teams warned top awards in the Junior Division, grades 4-6.
The sixth grade team from Forestview made up of Scarlett Anderson, Vanessa Anderson, Keaton Lingenfelter, and Sam Simpson were the state champions for the third year in a row. They placed first in both the Global Issues Problem Solving Competition and the Presentation of Action Plan Performance Competition. As state champions, they will be representing Minnesota at the International Future Problem Solving Conference.
The Forestview team of Reese Glynn, Hannah Kurtzman, Lindsey Neifert, and Izaac Vanek placed second in both Global Issues Problem Solving and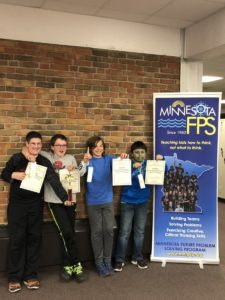 the Performance Competition and will also be moving on with an invitation to the international competition.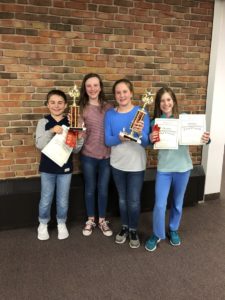 The final Forestview team of Josh Anderson, Kieran Bihler, Drew Cline, and Chris Low placed third in the Presentation of Action Plan Competition.
The only team from Nisswa Elementary placed 4th in the Performance Competition, resulting in the Brainerd District FPS teams sweeping the top four places in the Performance Competition. The Nisswa team members are Callista Anderson, Owen Byrns, Ava Capelle, Fern French, Tristan Rollins, and Matt Simpson.
The teams are coached by community volunteer, Sheila Johnston.
The International Future Problem Solving Competition will be held at University of Wisconsin-LaCrosse, on June 6-10. According to a press release, It is estimated that Future Problem Solving teams from over 20 countries from around the world will be participating in the International Conference.  The teams will again be competing in both the Global Issues Problem Solving and Performance of Action Plan Competitions. The topic  for the International Conference is Criminal Justice.
Lakeland News is member supported content. Please consider supporting Lakeland News today.