Annual 'Back To Hack' Four Day Festival To Be Held In Hackensack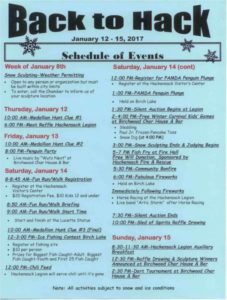 The annual 'Back To Hack' festival in Hackensack will be held this weekend. The festivities will kick off on Thursday, January 12, and run through Sunday, January 15.
A fun run, polar plunge, ice fishing contest and more will happen around town for a wide range of ages. A chili feed will be served at the Hackensack Legion and the volunteer Fire Department will host a fish fry.
All are welcome to the attend and participate in the events. All activities are subject to snow and ice conditions.
More information can be found on the Hackensack Chamber of Commerce website.
Lakeland News is member supported content. Please consider supporting Lakeland News today.